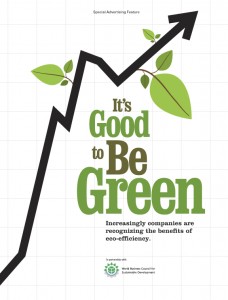 Going green for small and medium businesses can help short term divdends on their investments and further increase the overall performance of small and medium businesses nation wide.  Some ways going green benefits is by improving productivity, decrease in loss time to sick days,  and being better equipped to recruit talented employees.
Several studies have shown that energy efficient upgrades and sustainable building practices can improve employee productivity significantly. According to a 2003 study from the Center for Building Performance and Diagnostics at Carnegie Mellon, taking steps to improve indoor air quality and installing energy efficient lighting both have strong positive effects on productivity. Enabling workers to control air temperature at their workstations increased their productivity anywhere from 3.5-36.6%. By installing high-efficiency lighting fixtures, businesses can experience a 3-13.2% increase in worker productivity. Taking advantage of natural light also has its benefits. The report notes that utilizing daylighting can improve productivity 3-18% and even increase sales by as much as 40%. Taken together, these numbers can represent a considerable advantage for any small business, especially considering that the EPA estimates that even a 1% increase in the productivity of office workers is enough to offset the costs of such upgrades.
To read more, please visit http://bit.ly/9RzQBI.