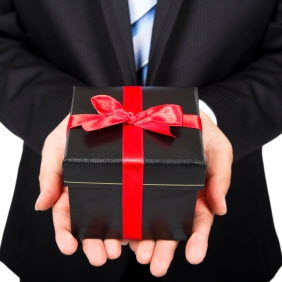 Whether your business depends on the fall/winter holiday season for a substantial part of your annual revenues or you find it to be a slow time of year – remaining engaged and connected with your prospect and customer base is never more critical than now. And that means embracing the holiday season as part of your marketing strategy.
While sending holiday greetings are important, you may want to consider diversifying your online and offline marketing tactics to ensure your business or non-profit remains relevant and top of mind throughout the season and into the new year – with a healthy bottom line to boot.
Here are some marketing options and tips to consider from Business. gov as part of your small business holiday toolkit.
1. Promotions, Incentives and Giveaways – That Needn't Break the Bank
Promotions and incentives needn't be restricted to the mall and Main Street. Whatever your business or industry there is usually a season-appropriate discount, bundle, or giveaway that you can offer your customers.
When determining your offer, think about the season and what you can do to help your customers get through the stress and expense of the holidays -  then create a compelling reason for them to act now. For example rather than simply discounting your services, offer a packaged offering: "Buy X service now and we'll provide Y for free in the new year."
Reducing your customer's burden can even be achieved with the instant gratification of a giveaway. These needn't be expensive. Even something as simple as offering a free holiday cookie or apple cider when they visit your store/business location can make you stand out.
If you are a freelancer, you will know the cash flow pain that comes at this time of year. Nevertheless, don't be afraid to position your services for the holiday season and offer your clients special incentives, too. Find out what their holiday business plans are and offer them a "holiday special". This could be a value rate for bundled services or a repeatable cookie-cutter project that you can offer all your clients to help them out during the holidays. For example a logo/Web site festive re-design or fixed price marketing campaign would be appropriate.
2. Get your Web Site Ready for the Holidays
If you have an online presence or operate an online business here are some simple ideas for prepping your site for the season:
Decorate your Web Site - It's a simple, often overlooked, tactic that adds a human touch to your operations and makes online shopping that much warmer and inviting for the consumer. A quick approach is to take a leaf out of Google's book, and pay a graphic designer to decorate your logo; it won't cost much and can be reused each year.
Don't forget Social Media – Consider customizing your Twitter page and Facebook logo for the holidays too.
Check that all of your online merchant tools are working properly. There is no surer way to lose a customer than broken links.
3. Tie Holiday Themes into Your Sales Strategy
Whether you sell to consumers or business customers this is a great themed way to raise awareness of the diversity of your offerings and shift extra stock!
4. Don't Forget to use Email – Properly!
While email is generally overused it is still an inexpensive and easy-to-implement option for maintaining contact with existing customers. To be effective, do remember that mass email marketing should only be used to communicate with those you have already done business with or who have expressed an interest in your business or services and have asked to receive email from you – otherwise known as permission marketing.
Here are some tips for using effective email marketing to support your holiday marketing efforts:
Keep the e-mail short, sweet and with direct links to your promotional offers rather than the home page – You want to make the process as easy as possible for your customers.
Clearly state the intent of the email in the subject line - For example, "Thank You for Your Business in 2009 – Here's a Special Offer Just for You".
Segment your customers according to their buying habits - Most commercially available email list management programs have a variety of tools that can help you make sure your readers only get messages that are relevant to them.
Be festive in your design - It's the holidays after all!
Follow the rules of the road – Don't forget that online marketing is regulated, so whatever tactics you employ be sure to follow government guidelines that apply to list management, SPAM, and other rules of the road.
5. Beef up your Customer Support
Before you start any new holiday marketing venture, it's absolutely vital that your customer support processes operate efficiently. Proactive measures such as email marketing campaigns and displaying customer reviews on your Web site can help increase your consumer trust. But, if the staff and infrastructure are not in place, you're wasting your time. Consider hiring a few temporary holiday staff to help you keep things running smoothly.